Just wondering if there is any way one can get the top to sit closer to the side windows? Drivers side seems close but the passenger side could drop about 1/2-3/4" lower to meet up with the window.
Any ideas??
Thanks


You need the 62 supplement to the 61 Factory Manual(both if you don't have the 61 already). It has a whole section on the adjustment of all things convertible including how to adjust the various adjustment points, and there are a lot, for fit conditions of the top. Careful, one adjustment effects another and I would not touch the main hinge unless it's loose or already moved. Also, window mechanism is adjustable for height/rake/in/out/tilt, make sure you are reaching full height on your window first. The various adjustments for windows, top, doors, and maybe others are somewhat unique to the convertible.
Thanks, do not have the supplement manual, will need to look into getting one. Any ideas where?
I think we got ours on ebay, maybe Faxon. Its a reproduction so should be readily available. You may be able to tell from my login but mine is for an Olds Cutlass Convert but I imagine they are available for the Buick.
The top frame is now in place and tight to window but..... what gives with the soft part of the top? It is nice and tight across the top but seems to be a little narrow for the frame, see pic???
Looks like the bow is high there?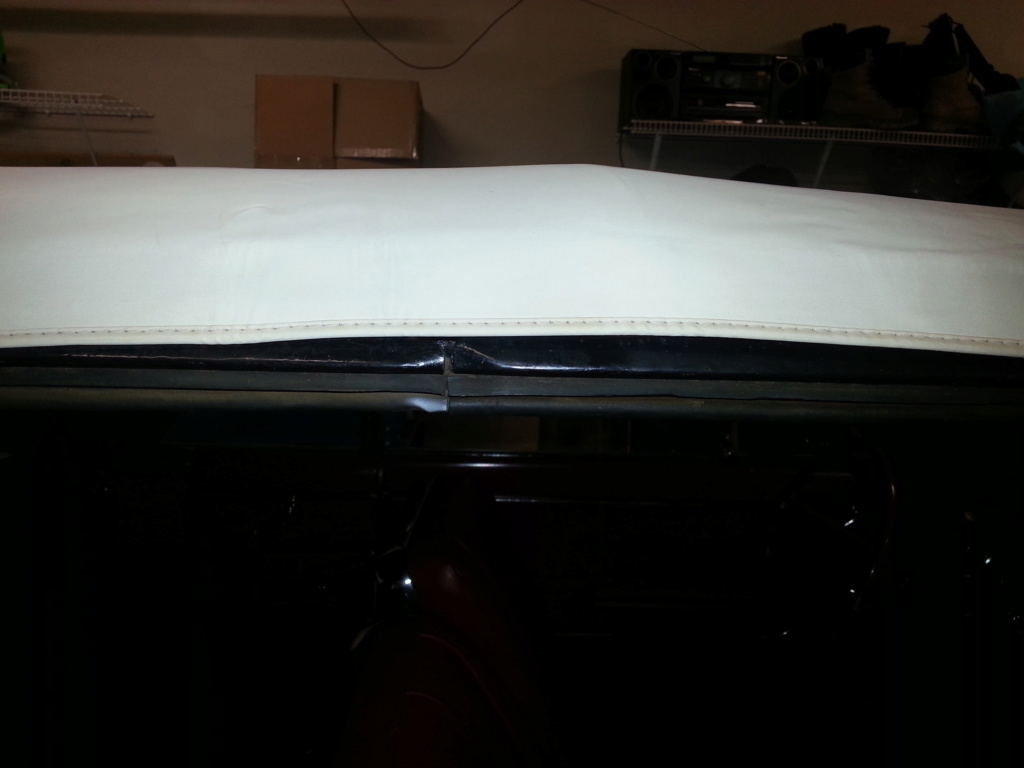 Last edited by cdnwillyg on Mon Sep 24, 2018 8:40 am; edited 1 time in total
Looks short alright. Quality top and installer? If you had it installed and they supplied the top I would take it back in. Old tops often shrink up and become high there but IMO a newly installed top should not look like that. Can't really say if bow is too high from here, you will have peaks at the bows. Area they in the right location. This is correct. Hope these pics post.
A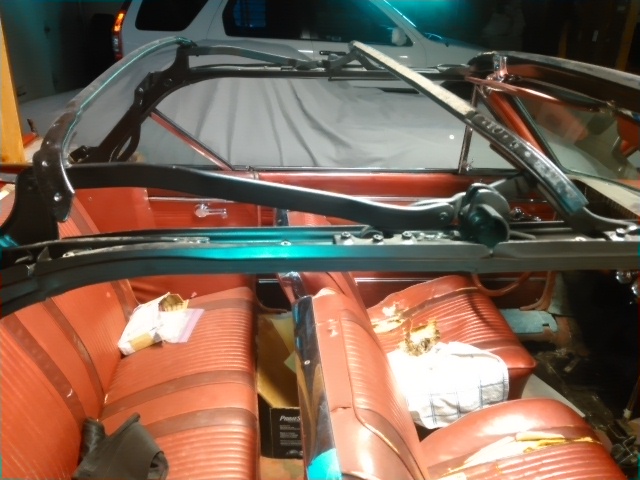 No idea the age of top or if its original came this way from PO, is there any adjustment to be had on the front bow to allow sides of top to come down?
There area 2 shims under my front bow, they are held between top frame and bow-see pic. But if the top is already fitted I would think it would just make it fit funny if you remove them, too loose front to back. If it's a properly installed top there is lots of paddng between the frame and top material too. I am not an installer, suggest you see one.
Good idea and thanks, I will get it looked at once I get this old girl on the road, I have lots of adjustment it seems front to back on the front hold downs/catches. Going south for the winter so it will be next spring.....but did take it around the block just to have the memory until we get back.
Last edited by cdnwillyg on Thu Sep 20, 2018 4:20 pm; edited 1 time in total (Reason for editing : Update:)


Similar topics
---
Permissions in this forum:
You
cannot
reply to topics in this forum