I'm planning on running an edelbrock 4bbl manifold and a 1403 carb. I saw that 62 cutlassconvert might be running the setup I want to run. What  I'm asking is if there where any extra's needed, brackets etc. to complete this install. Making my Christmas wish list early and just want to make sure I order all the bits and pieces in one shot...on a side note I'm still working on the wagon just not much time to post.(215 with auto trans)
Thanks
I can't speak for the intake manifold other than gaskets ( and new bolts if you choose too ) but the carb is basically bolt-on.  Somethings I would suggest however are e-brock's wooden spacer, a pressure regulator, and snazzy fuel filter.  If you get the spacer remember to purchase a carb stud kit that's long enough for the spacer and the carb's base plate.  Additionally, most have rejetted and/or installed new metering rods as the 1403 can be a little rich out of the box.  I bought the jet/rod kit for it and am still fine tuning ( as time allows ) with my Innovate LM2 wideband so I can't give you any info beyond that presently. Not to mention, no two engines will agree on the same jetting/metering since there are too many variables ( timing, fuel used, pressure at the float, spark plugs used, etc... ) so you'll have to experiment with this.

This the spacer I bought -- https://www.summitracing.com/parts/edl-8723 -- alot of users have reported having heat soak problems including myself -- this seems to have relieved it for me but I also wrapped the hard line in rubber fuel line to further insulate the fuel to the carb so it might've been a combination of things for me.

I'm sure 62cutlass will chime in on his findings -- keep on roddin' bro!

_________________
1961 SKYLARK 2 DR COUPE
215 CI 185 HP 2 SPD
Admin




Posts

: 531


Join date

: 2014-12-29


Age

: 40


Location

: BFE, IL



thanks for the info, did you have any problems connecting the accelerator pedal back up (gas pedal

)
Agree with what regal says about the conversion, didn't use a regulator but can't hurt, and it's a pretty straight forward swap. But what trans are you using? You will have to figure out something for the trans cable/levers if you are using a stock auto. The Olds had the Roto5 which has a rather complicated arrangement of levers and brackets at the carb, perhaps the buick set up is simpler, or a manual would be the best. Here's some pics of my setup, I switched to a TH200C so I made the bracket at the rear of the carb from a double 2x10 Simpson joist hanger and a universal TV cable bracket kit I got from Summit. Throttle linkage itself was as simple as it could be, couple of joints and right/left threaded rod and it goes perfect to the orig wall lever for the pedal. Used a Keyser Manufacturing 100 68827-2.0 - Keyser Manufacturing Sure Seals 2" alum air cleaner spacer from Summit at $17.5 with a rubber o-ring seal to space the stock air cleaner up from the carb to clear everything and so the air cleaner would fit the larger carb. The spacer hits the radius on the air cleaner and seals tight, see the pict down the throat of the carb, lots of breathing room.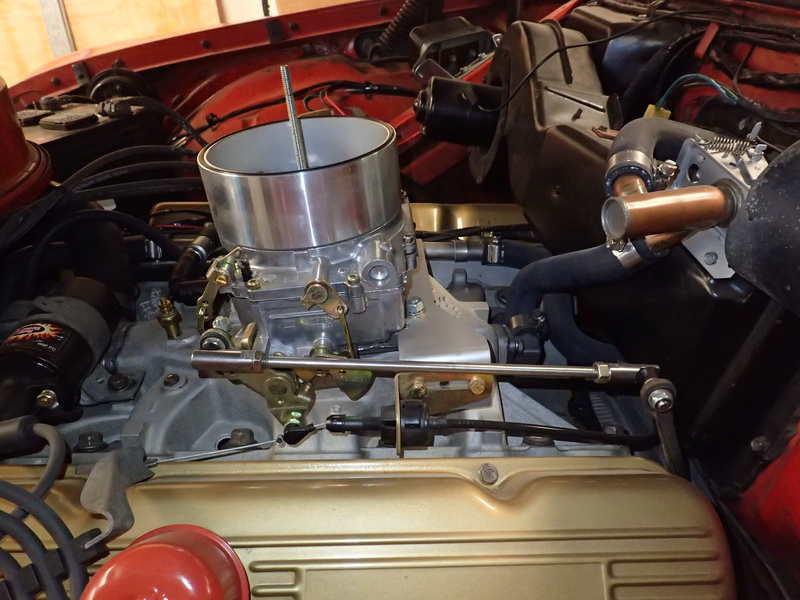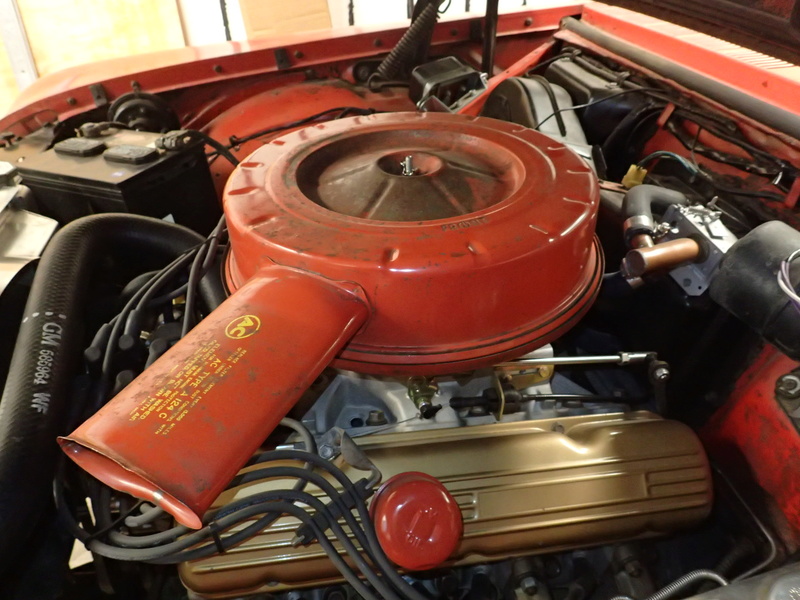 Posts

: 192


Join date

: 2016-06-13


Location

: Santa Cruz, CA



nice radiator set up, I'm going with the dual path auto. Was thinking of the 200r4 only the wife will be driving it (good excuse) and redoing the tunnel etc. would take space away form a already smallish interior and wanting to keep bench seat. Great for 2 old people going to the drive-in. It'll be a while before the cars ready just trying to get all my ducks in order. Just looking for help/ advise from anyone that has already done the swap....thanks for all the info.


Similar topics
---
Permissions in this forum:
You
cannot
reply to topics in this forum