Just thought I'd take a few pics so you could see the monster I'm starting with. Guess I should of taken these before I started but don't think pictures while I'm working.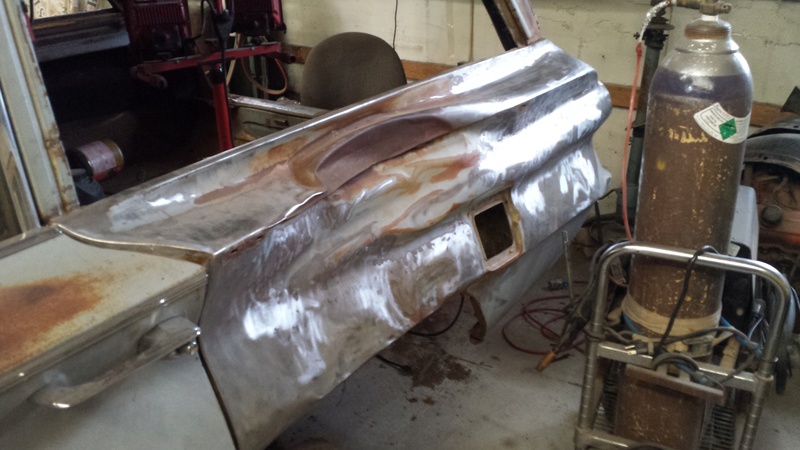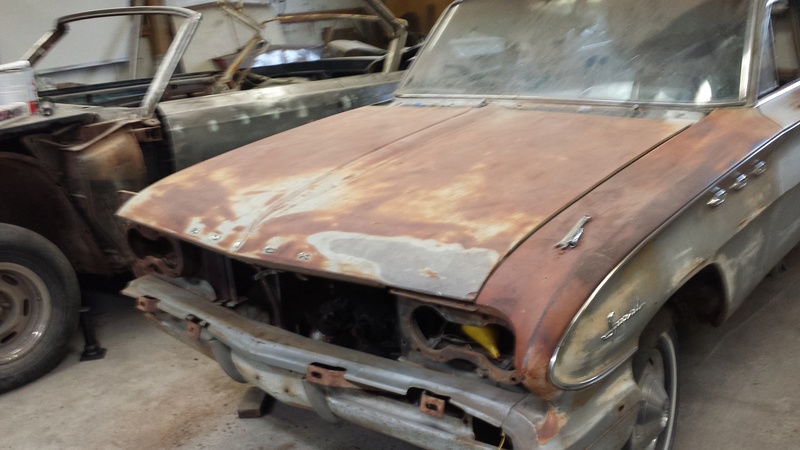 does anyone have one of these sitting around for the drivers side, the hinge assy. for back door.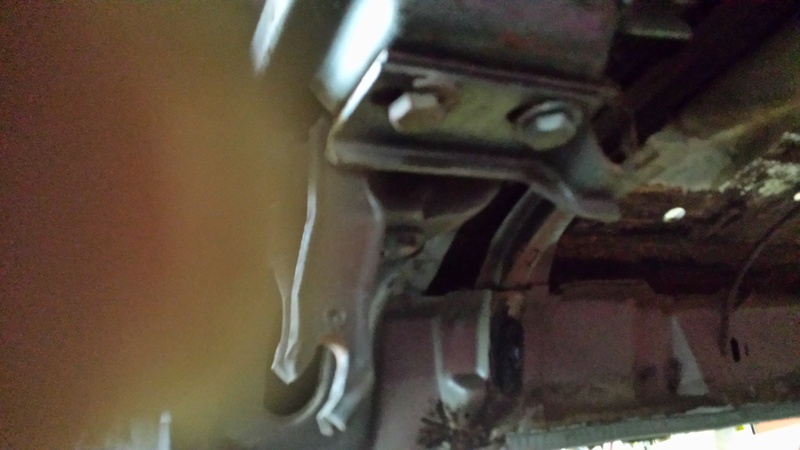 Looks like you have your work cut out for you -- keep posting updates please!

_________________
1961 SKYLARK 2 DR COUPE
215 CI 185 HP 2 SPD
worked on the pass fender today, by no means am I a pro just do this as a hobby to keep me outa the bars.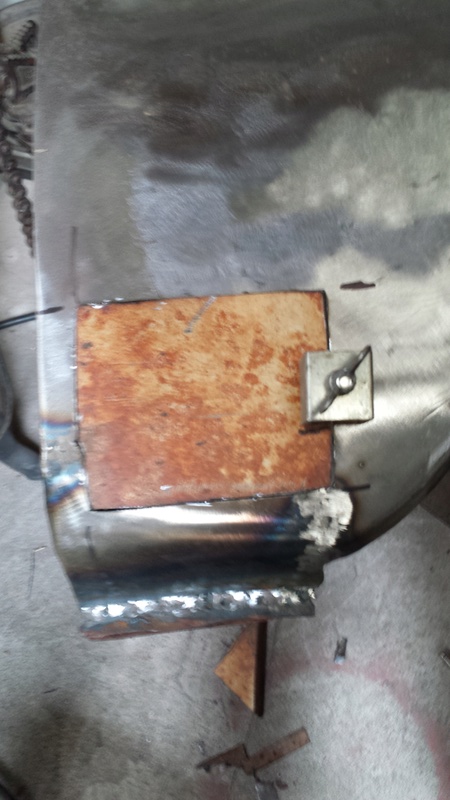 The bottom of the fender was rusted out, I made the bottom section with an anvil ball peen and vise. the rusty insert was cut from a trashed fender
another shot of the piece I made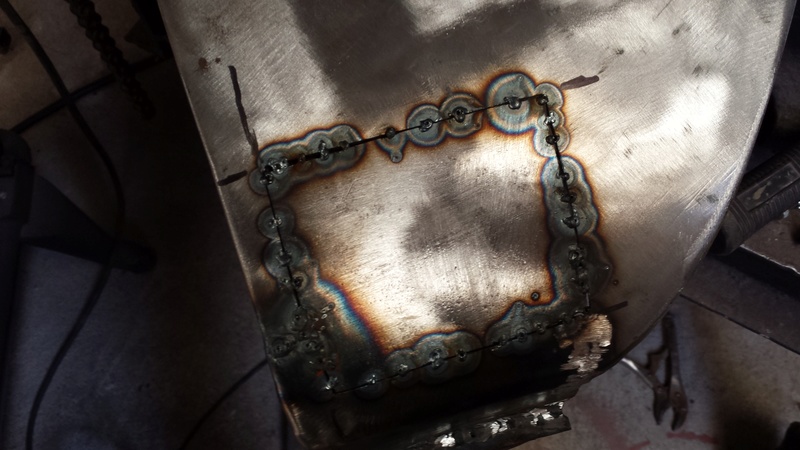 Insert tack welded in, using a tig which I'm new to (self taught)but having a few problems and I did get some warping which just happen to be under the brace, got some of it out by sliding flat bar under brace and hitting the brace.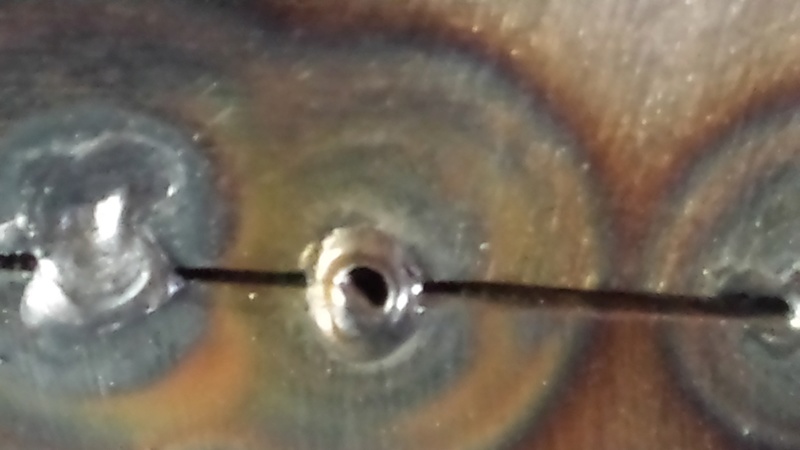 any ideas on what causes this, I'm thinking dirt or rust in the metal but then I'm not a pro so any help?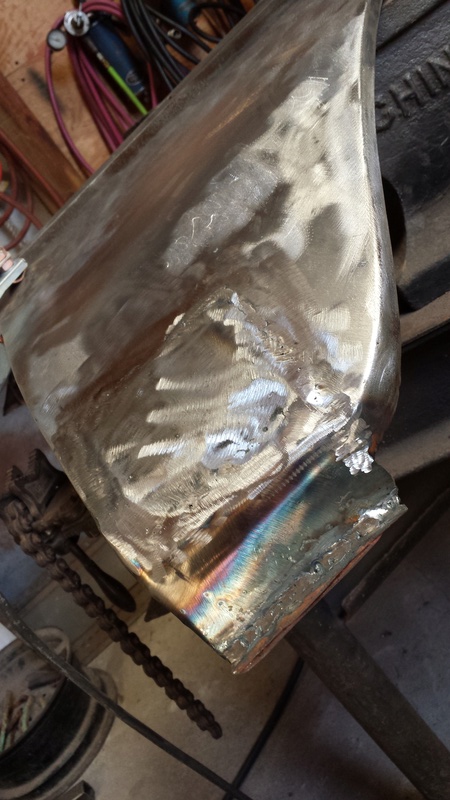 gona need a little bondo only a lot less than before. Wanted to fill the moulding holes but we're having freaky weather 95+ with humidity thats unnatural for this part of Ok.
Looks good!! Everyone starts somewhere and I too use this as a way to stay out of bars ( and any other trouble for that matter )!!

Can you tell us what kind of tig welder you're using and the settings / rods, etc.. this might help us figure out what is causing your blow through although I've got almost no experience with TIG. Others might though.

_________________
1961 SKYLARK 2 DR COUPE
215 CI 185 HP 2 SPD
filled the holes for the chrome on the pass fender today and stripped the rear quarter, tail gate.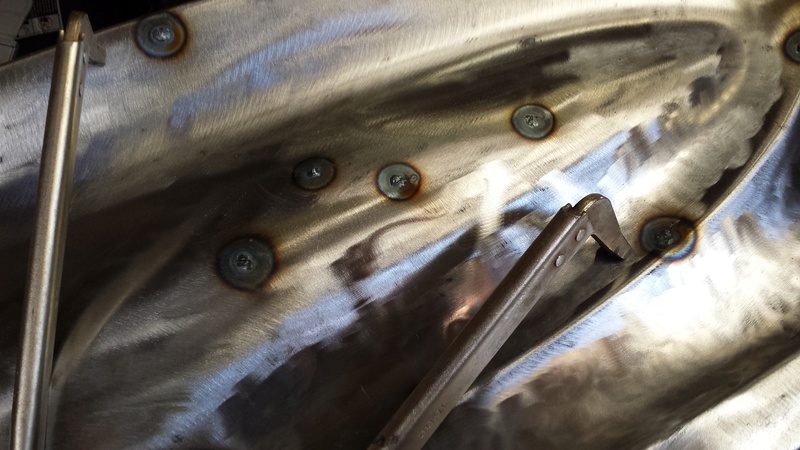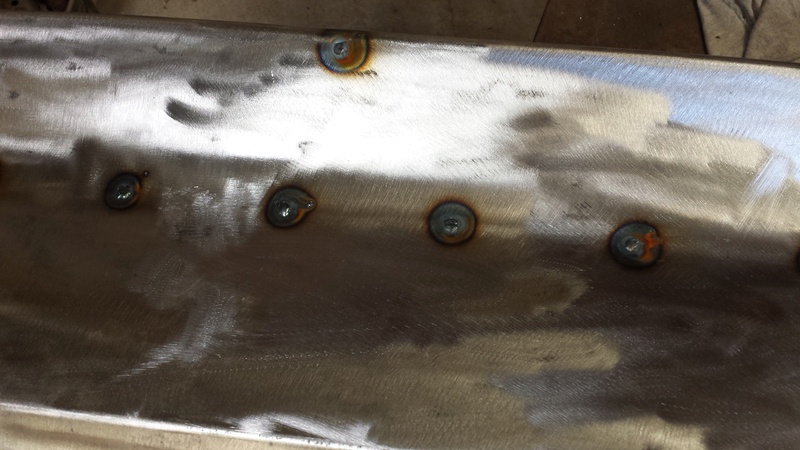 turned the heat down so I didn't get warpage  or blow thru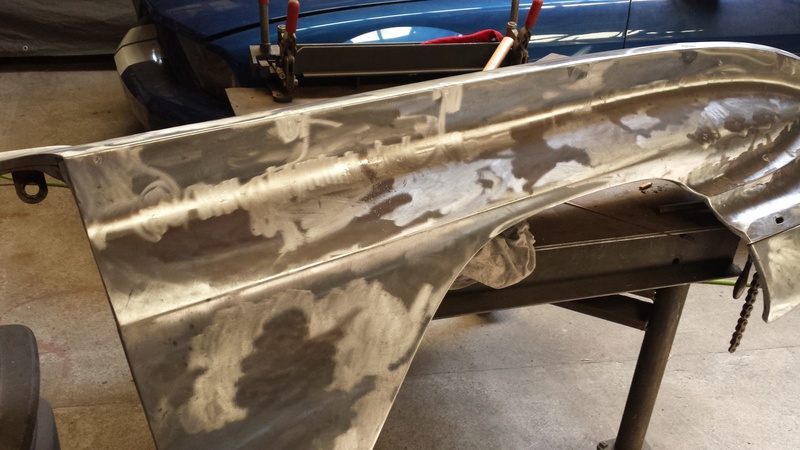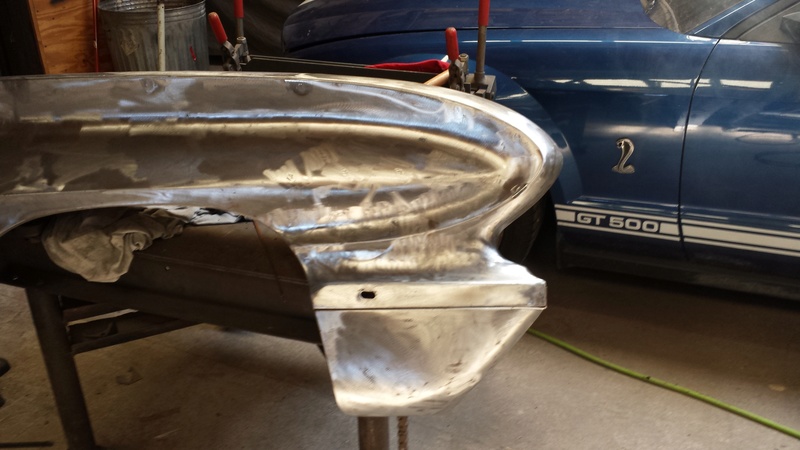 finished product and a shameless plug for what I drive when I need to go fast
One step closer to havin' her on the road!!

Keep posting the pics please!

_________________
1961 SKYLARK 2 DR COUPE
215 CI 185 HP 2 SPD
been busy just not posting but since its Saturday I have a bit of free time. Been spending the last few days stripping the parts car.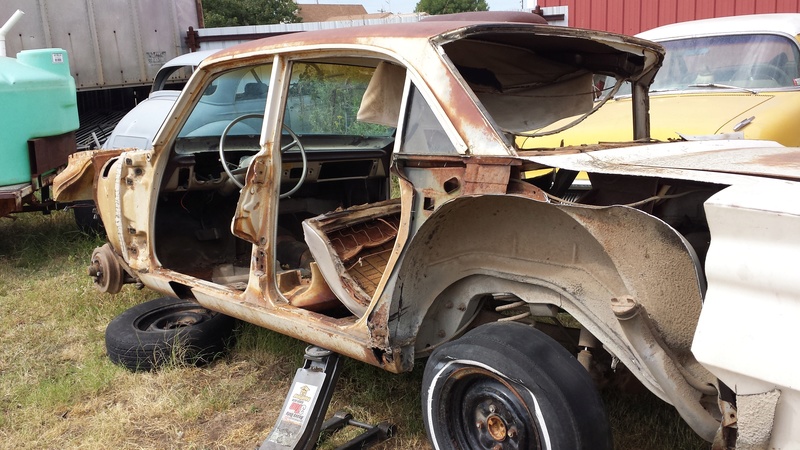 cutting that rear quarter out was a pain in the AS>>>>>>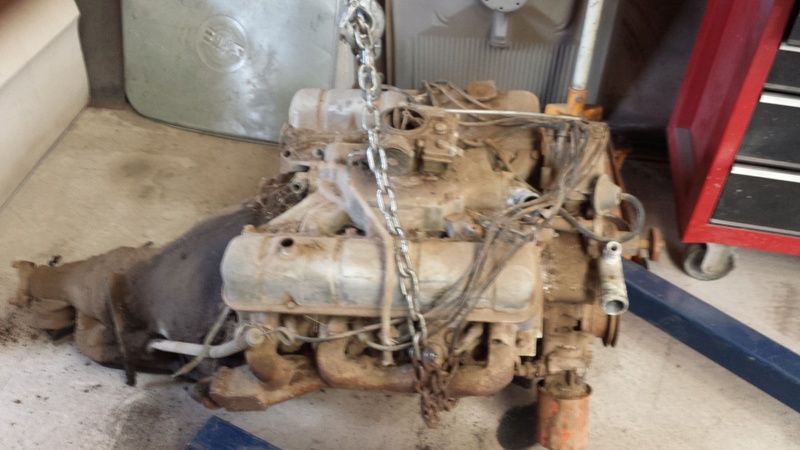 engine out of parts car seems ok held antifreeze and turns broke one bolt in exhaust manifold luckily it was the other side than the bolt I broke in the engine in the wagon, yes did use heat just not enough I guess.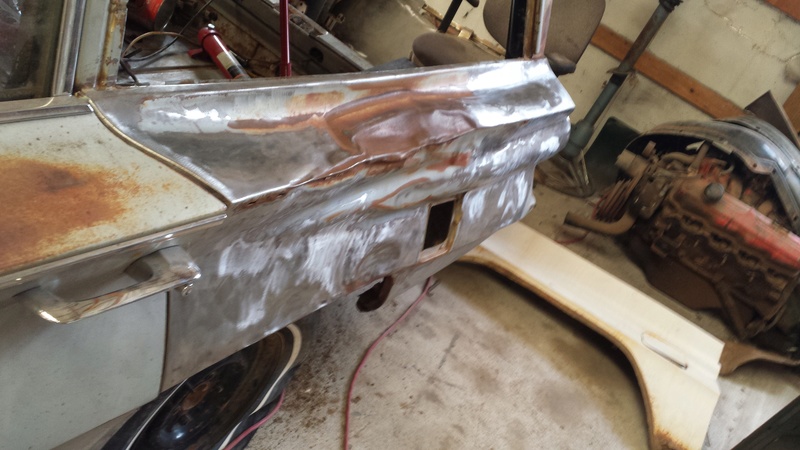 I also straightened out the driver quarter as much as possible with a portapower and a little luck. I'm going to cut out the worst damage and weld in the patch. The door seems match again so I'm happy.
had to cut out the inner fenderwell to have access to the sheet metal, thought I'd have to cut the outer wheelwell but it pushed and pulled back into shape while using the portapower.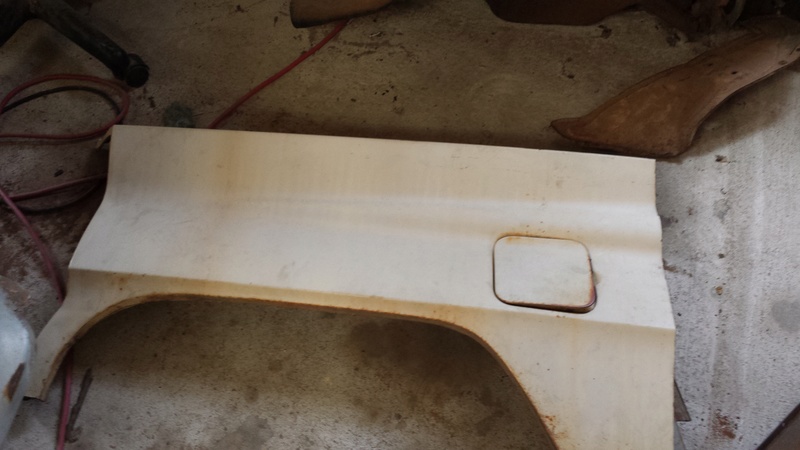 next will be to cut and paste this into the mess.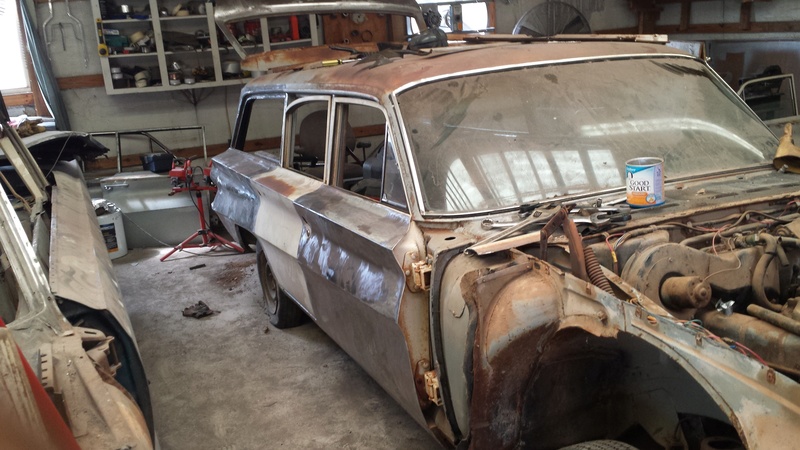 I hung the donor doors on the pass. side and cleaned them up a bit. Have some rust on the lower sill and already cut patches out of the donor just waiting to weld them in. My wife is thinking about having me paint it gold only after a few of these, we make it ourselves.....
I'm hoping to change her mind.......you guys have a great day!
Lookin good bro -- keep up the good work and the good spirits flowin'!


_________________
1961 SKYLARK 2 DR COUPE
215 CI 185 HP 2 SPD
DISCLAIMER: I'm not a professional body or auto mechanic. I spent 37 years being a crewchief on c-5s for the government until health made me retire. Everything I do has been self taught. I know it isn't perfect and yes there will be bondo. I just thought I would post my progress so that maybe someone else could say......if that ole-fart can do it.....
My avatar was my first attempt at a ground up build. I found parts in fields around here and built a truck. I did everything from body to interior, only the machining was farmed out. I had a little over 7k in the truck when I lost it. I'm hoping on spending less on the wagon. I would rather take a car heading for the scrap yard and even if it takes some bondo, try to put it out on the road again.

Reason I'm posting this is someone stopped by and told me I was wasting my time while he nick-picked my work, at least I'm doing it myself I told him. My saving grace was when he looked at the trunk of my 880 and the way I put new metal in it. He said it wasn't original but didn't look bad. He then let it slip out that his 30k cuda's trunk had a repop trunk in it only they pop riveted it in while they restored his car.

I guess what I'm trying to say  I'm 59 and still trying new things so for all of you that have doubts about doing your own work....don't it may not be perfect yet when it's on the road you'll have the satisfaction of knowing it's all yours and you'll have a chunk of change for your next ride.

On a side note rt338b-----wish I had your talent!
Screw what others think bud. You are not doing it for them, youre doing it for yourself. I can't stand the holier-than-thou crowd. I think youre doin a great job, keep it up. You have skills from what Ive seen and youre only going to get better by taking some chances along the way.

_________________
1961 SKYLARK 2 DR COUPE
215 CI 185 HP 2 SPD
---
Permissions in this forum:
You
cannot
reply to topics in this forum