Below is a chart showing specs for those that have done front end work or installed new tires and intend to get a front-end alignment done.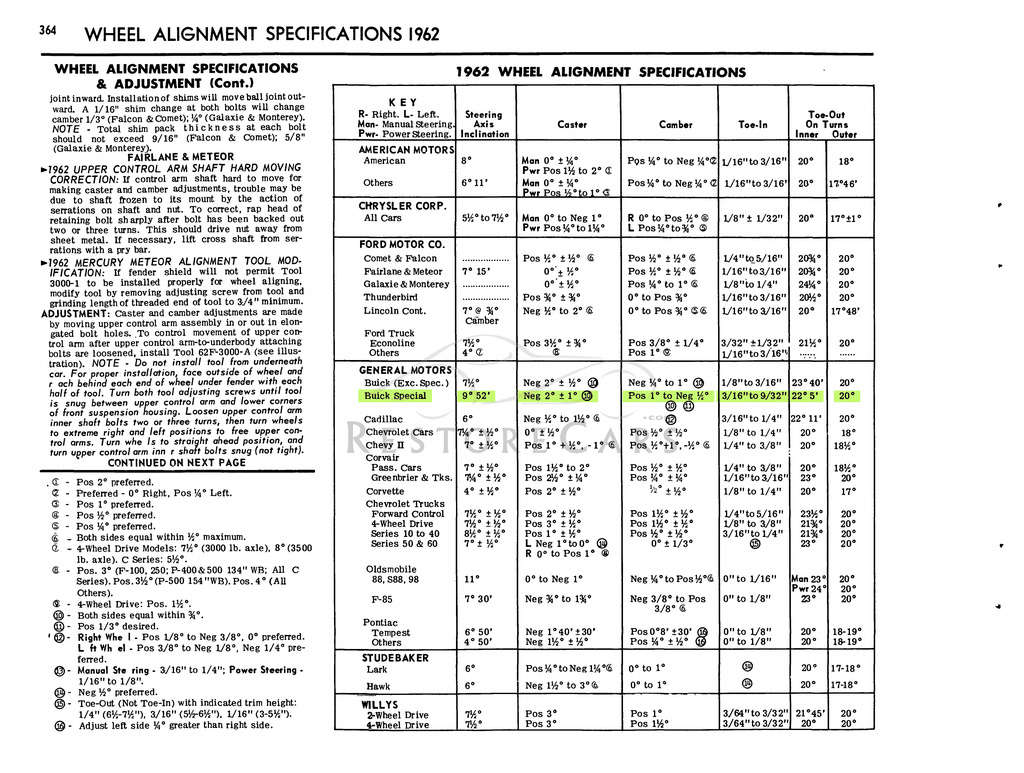 _________________
1961 SKYLARK 2 DR COUPE
215 CI 185 HP 2 SPD
Admin




Posts

: 422


Join date

: 2014-12-29


Age

: 38


Location

: BFE, IL



I like to push the Caster to a positive setting, it give better steering feel, response, handling both on and off the highway. I run as much as possible in my 64 El Camino at about 6 degrees with a 12:1 power box and it is great. Negative Caster is one of the reasons 50s and 60s cars were so boatlike in their steering/handling. They liked that 1 finger steering back at that time. Don't know how much I can get out of the stock suspension on my Cutlass but hope to align it in the next couple of weeks. Just found someone, I hope, who knows how to align old cars.



Posts

: 112


Join date

: 2016-06-13


Location

: Santa Cruz, CA



It's funny you mention the positive caster setting -- looking at the chart I noticed the F85 settings for caster are different from the Sky's -- they promote -3/4 to +1 3/4. Might just try to set caster to +1 when I do the alignment IDK -- I do know that there are not many negative to "positive" caster other than increased steering effort but my sky has P/S so this shouldn't be a huge deal. I don't want to go to high though with it or I might have rubbing issues when cornering if the tires lean to much.
Thoughts?

_________________
1961 SKYLARK 2 DR COUPE
215 CI 185 HP 2 SPD
Admin




Posts

: 422


Join date

: 2014-12-29


Age

: 38


Location

: BFE, IL



Yes I see your concern, positive caster has the effect of leaning the tire in more at the top(like in neg camber) when cornering. This is one reason +caster improves cornering(the more + caster the more the lean) so you could take a look at that but I think you'd already have to be pretty close for it to be an issue as in having a lot of backspacing with big tires .... I am running 225 x 60 x 15s on 7" rallye wheels on my El Camino and do not have a rub with about 6 degrees positive caster. You may have to do a trial and error program to see how it works for you. That F85 spec is a little unclear, not sure if they are saying -3/4 to + 1 3/4 or -3/4 to -1 3/4. I'd like to get 4+ degrees but that may not be possible. Best thing is to get an alignment guy who know's his stuff on the old cars and prior to the alignment will discuss what you want to do, not too common these days. Maybe the hot rod guys in your area have a recommendation. I'll report what the alignment shop I am going into to for the first time is able to do.



Posts

: 112


Join date

: 2016-06-13


Location

: Santa Cruz, CA



---
Permissions in this forum:
You
cannot
reply to topics in this forum