Below is a chart showing specs for those that have done front end work or installed new tires and intend to get a front-end alignment done.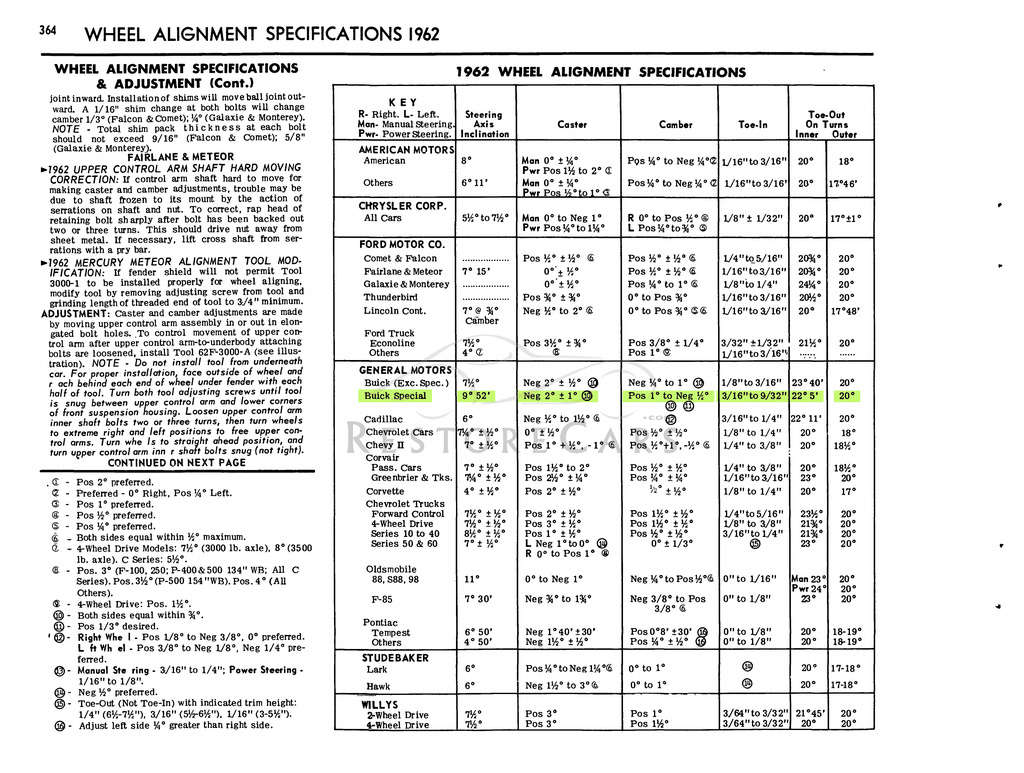 _________________
1961 SKYLARK 2 DR COUPE
215 CI 185 HP 2 SPD
I like to push the Caster to a positive setting, it give better steering feel, response, handling both on and off the highway. I run as much as possible in my 64 El Camino at about 6 degrees with a 12:1 power box and it is great. Negative Caster is one of the reasons 50s and 60s cars were so boatlike in their steering/handling. They liked that 1 finger steering back at that time. Don't know how much I can get out of the stock suspension on my Cutlass but hope to align it in the next couple of weeks. Just found someone, I hope, who knows how to align old cars.
It's funny you mention the positive caster setting -- looking at the chart I noticed the F85 settings for caster are different from the Sky's -- they promote -3/4 to +1 3/4. Might just try to set caster to +1 when I do the alignment IDK -- I do know that there are not many negative to "positive" caster other than increased steering effort but my sky has P/S so this shouldn't be a huge deal. I don't want to go to high though with it or I might have rubbing issues when cornering if the tires lean to much.
Thoughts?

_________________
1961 SKYLARK 2 DR COUPE
215 CI 185 HP 2 SPD
Yes I see your concern, positive caster has the effect of leaning the tire in more at the top(like in neg camber) when cornering. This is one reason +caster improves cornering(the more + caster the more the lean) so you could take a look at that but I think you'd already have to be pretty close for it to be an issue as in having a lot of backspacing with big tires .... I am running 225 x 60 x 15s on 7" rallye wheels on my El Camino and do not have a rub with about 6 degrees positive caster. You may have to do a trial and error program to see how it works for you. That F85 spec is a little unclear, not sure if they are saying -3/4 to + 1 3/4 or -3/4 to -1 3/4. I'd like to get 4+ degrees but that may not be possible. Best thing is to get an alignment guy who know's his stuff on the old cars and prior to the alignment will discuss what you want to do, not too common these days. Maybe the hot rod guys in your area have a recommendation. I'll report what the alignment shop I am going into to for the first time is able to do.
So I got the alignment done yesterday -- they were able to get +1 on the caster, -1/2 on the camber, and the toe within' spec -- so far seems to ride pretty good albeit only a 5 min ride back from the alignment shop and I haven't experienced any rubbing even with the overwidth tires and 2" drop -- I'll report back when I get some more seat time -- should occur within the next week or two -- just a couple more items before the car is officially back on the road.

_________________
1961 SKYLARK 2 DR COUPE
215 CI 185 HP 2 SPD
Did they run out of bolt or what caused them limit Caster to +1 degree?
How did you set up the control arms on the shafts?
+1 was all I requested - not sure if they had more bolt they couldve shimmed out or not and didn't think to ask either.

Im not certain what you're asking on the 2nd question. I never removed the cross shafts from the frame, just the CAs -- tried to get the arm centered as best as i could - mustve been good enuf cuz it all came in as spec'd and they don't look weird or have any rub issues at the wells either.

_________________
1961 SKYLARK 2 DR COUPE
215 CI 185 HP 2 SPD
Sorry, yes was asking how you located the arms on the shafts. Whether you centered them or offset them a little. BTW, one of the members on the Jetfire forum was actually able to buy the factory Control Arm locating tool. Essentially its a half pipe spacer that sets up the location of the CA on the shaft. Once you have the dim you can easily make one, just makes centering them a little easier. There is a discussion about it and the dimensions of it on the forum. I set my CAs up a little forward for the bottom CA and a little back for the upper CA to give me a head start for positive caster, hope it works.
Guess I could've been a little clearer -- the top CA's I centered on the shafts. The bottom CA's were posititioned using the factory tool ( you may have your forums mixed up?? - I'm the one whom found the J-tool spec'd in the manual ).

Basically what I'm trying to say is I used the factory service manual and setup per the instructions.

_________________
1961 SKYLARK 2 DR COUPE
215 CI 185 HP 2 SPD
Oops, I'm easily confused. I checked the dimensions with you on the tool as I recall. Thanks again. Be good to hear how you like the setup.
NP bud! I've been there a time or two myself!

I actually got to drive the car today since my daily is in today for alignment ( yes I know, must be that time for me lol ).

So far so good -- seems to track pretty good. Additionally, I've notice absolutely no rubbing or any indication of sorts so the 2" drop appears to be working well with the alignment specs and wheel/tire combo I'm running.

_________________
1961 SKYLARK 2 DR COUPE
215 CI 185 HP 2 SPD

---
Permissions in this forum:
You
cannot
reply to topics in this forum