We've decided to create a sticky for those that have ventured beyond the stock wheel & tire setup and put custom shoes on.  

Please only post to this if you've done so and the setup appears to function with minimal interference or rubbing.  

If you are experiencing some minor rubbing or interferences, OR have any other noteworthy comments about your install... please be sure to comment as such.  So future buyers can make an informed decision.

Any pictures would be great as well!

TIA!!
Josh
Admin
Last edited by regal81455 on Fri Jun 30, 2017 9:48 am; edited 1 time in total

_________________
1961 SKYLARK 2 DR COUPE
215 CI 185 HP 2 SPD
Admin




Posts

: 421


Join date

: 2014-12-29


Age

: 38


Location

: BFE, IL



Here's my setup.  I was not experiencing any rubbing (front or rear ) with this and OLD stock springs.  
Wheels:  Konig Rewinds - 16 x 7 - 4 x 4.5" ( 114.30mm ) Bolt pattern - ZERO OFFSET
Tires:  Nitto NexGen 205/50/R16 ( 23.5" OD )
** Please note the Konigs require the front hub to be turned down approx 1/4" for the center caps to work on the front. **
I have since lowered the car in the front 2" and did the front disc conversion but have not had it back on the road yet to report any changes -- I will soon -- expect to have it in driving condition within 2 weeks.
BEFORE I LOWERED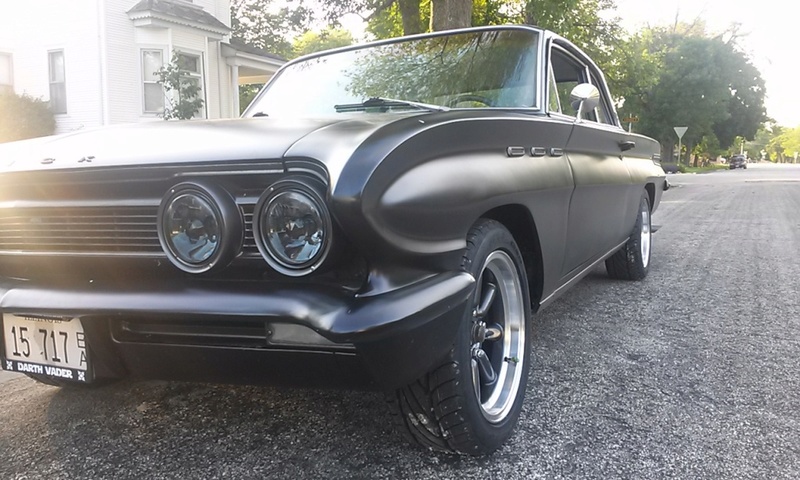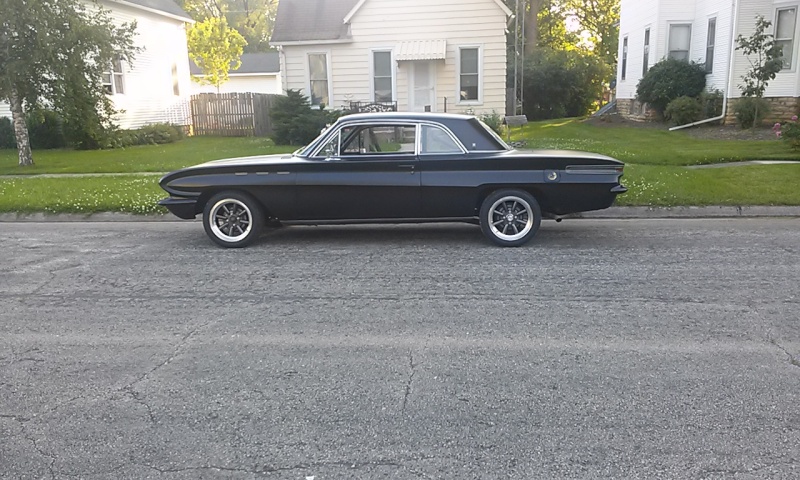 AFTER I LOWERED 2"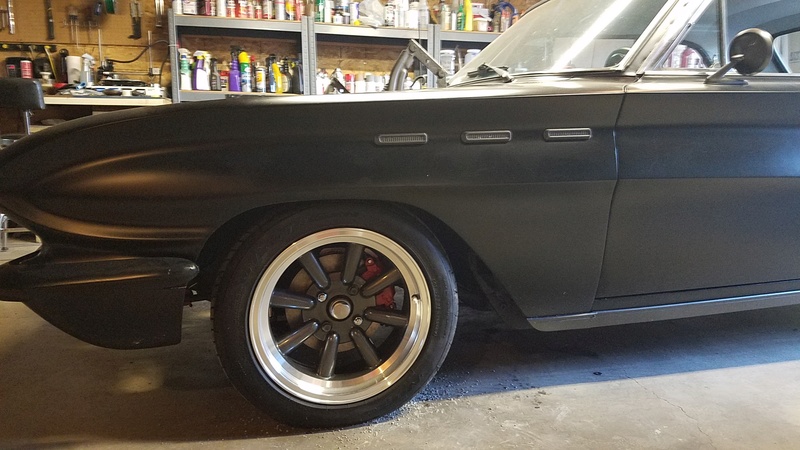 _________________
1961 SKYLARK 2 DR COUPE
215 CI 185 HP 2 SPD
Admin




Posts

: 421


Join date

: 2014-12-29


Age

: 38


Location

: BFE, IL



I have a set of Appliance 14x7 with 1/2" positive offset (wheel bolt flange away from car centerline). The tires mounted are 205 75R14. Tire is 26.1 OD. No rubbing even at full lock. Previous owner may have 'adjusted' the bodywork, slightly, though.

The manual states the standard tire was a 6.00-13 and the rim is 4.5" wide. Optional tires are 7.00-13 and 6.00-15. The original rim I have is 13" With my crude tools and in the garage, I measured the offset at 2" positive! Maybe it is 1.75, but whatever, it is a lot. I measured this with the mounted tire: a 7.00-13. I cannot mount the wheel on the front currently (disc brakes), but it has been used previously on the car. So if you start playing with the configurator here:

http://tiresize.com/wheel-offset-calculator/

The 7.00-13 tire is 'equivalent' to a 185 82R13 (if I read this correctly). The Saab rims (-87) are 15x5.5" with 4 on 4.5" but with a 38mm (1.5" offset) If you put the original tire in the configurator and put the Saab rim and a 195 65R15 it appears to be extremely close to the 7.00-13 on a 4.5" rim with 2" offset.

I just ordered some Koenig rewind 0 offset 15x7 rims but am wondering if a bit more offset would be beneficial. Trying to decide on tires for these rims.
Last edited by keithg on Mon Jul 03, 2017 9:21 am; edited 1 time in total (Reason for editing : clarity and more info)



Posts

: 95


Join date

: 2015-01-07



Adding more info, here. Looking at getting 205-65R15 for the Koenigs.

On the speedometer error:
I have a Muncie 4sp in my car. It has an 8T speedometer drive gear as did the OEM T-10. Available Pencil (driven) gears are 17-22T. The manual shows the OEM setup with 3.36:1 final drive, 6.00x13 or 7.00x13 tires calls for a 22T pencil gear and the 6.00x15 set calls for 21T.

Calculating this out for new tires: With: 8T driven,  3.36 final drive and the 205-65s (815 rev/mile) I get 8*3.36*815/1001 = 21.8T which rounds up to 22T with 1% error (low speedo reading), so this is almost perfect. Compared to the 205-60s which comes to 22.6T which is 2.7% error (high speedo reading). I think I'll be happy with the 205-65/15s.

Keith asked about speedometer gears in the other thread. These appear to be identical between the Automatic and the Saginaw 3sp but different from the BW 4sp at least according to the manual part numbers. The Auto with a 3:36 rear end and 13" rims has a 7 tooth drive and a 19T pencil gear. The auto pencil gear part numbers: 18T part number is 1164846, the 19T part number is 1164713 and the 20T is 1349483. I'd use this calculator and figure out what the error should be and get that gear. If the speedo is still off, you can get these calibrated.

Somi part number and info: Chevelle Speedometers

A search on the web suggests that these are interchangeable as long as the diameter of the drive gear (7T worm) is the same as the BW but it is not entirely clear. I do not have an auto and cannot measure it to see, but there appear to be 2 diffrent diameters of the drive gear for the Muncies/BWs. My guess is that it will interchange ans a plastic pencil gear is pretty cheap to try. THe GM Parts wiki just gives part numbers, but no clear info in interchangeability of these.

Keith
Last edited by keithg on Sat Jul 22, 2017 12:15 pm; edited 1 time in total (Reason for editing : added speedometer gear info)



Posts

: 95


Join date

: 2015-01-07



---
Permissions in this forum:
You
cannot
reply to topics in this forum